Virginia Scholastic Chess Association
Chess Instruction
Mr. Mike Callaham, VSCA secretary, Class A player and chess instructor, is the CEO of Richmond Chess Initiative and the coordinator and head coach of the Richmond Middle School Chess League. He currently coaches chess clubs at J. B. Fisher Elementary School, Albert Hill Middle School, Binford Middle School, Thomas H. Henderson Middle School and Thompson Middle School in Richmond, and Tuckahoe Elementary School in Henrico County. Mr. Callaham and assistant instructors also coach at Boushall Middle School and Lucille M. Brown Middle School in Richmond. He also visits other school chess clubs throughout central and eastern Virginia on behalf of the VSCA. Among the many schools Mr. Callaham has worked with are Westside Elementary School in Smithfield, Providence Classical School in Williamsburg, Nandua Middle School on the Eastern Shore, Collegiate School in Richmond and Norview High School in Norfolk.
A sampling of the feedback we have received from Mr. Callaham's instruction: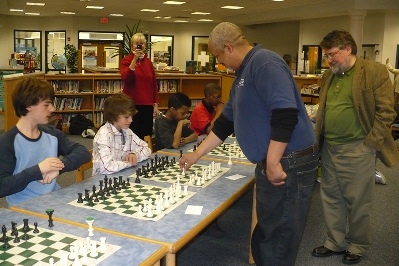 "Wow! He was excellent and really helped their thinking. ... The VSCA is lucky to have such a great player and wonderful teacher."
"...one of the simul participants, a high school student, was so impressed that he approached a teacher at the high school to start up a chess club there."
"He gave me many excellent ideas about how to organize the club so that we will actually learn to play better chess. He spoke to our chess club for an hour and everyone said that Mr. Callaham gave them information that they had never considered before."
"The kids loved his presentation as he was not only informative, but very humorous as well. He engaged the students in his presentation, and gave them a fresh perspective toward the game."
"Thank you for being available to the kids in this region, sharing your gifts and talents so willingly to further love of the game, and giving time necessary for mastery."
Parents and coaches, if you would like to have Mr. Callaham visit your school club for a free simul, chess clinic or lecture, please contact him at waterman2010kir@aol.com. Be sure to provide contact information for the school chess sponsor/coach. This is a wonderful opportunity for your school to benefit from the help of an experienced chess player and teacher. If you would like to meet and talk with Mr. Callaham, he analyzes games and talks with players at most of our VSCA tournaments. He's easy to find: Just look for the table with a big crowd of kids gathered around it.